Using fiction, reminiscence, memoir and oral history,  SPIN SPIN SCHEHERAZADE is a humorous and fervent monologue. Performed by Einat Tuchman, it recounts Orla Barry's tenuous interactions with the natural world, farming, man and animal.
The performance is rooted in a form of artistic barefoot anthropology.* It reflects on the culture of disconnection from the natural environment and the boundaries of art and the rural everyday. It recounts the experiences of an artist who has returned from the city to her roots and is reborn a hybrid — farmer-artist. The performance takes place in the gallery over a series of stops or chronicle points. There are chance elements which disturb the narrative procedure. All the story knobs are turned up to 10 the whole way through. The performance engages and satisfies primal emotions in a very unstable format which brings memory into focus and knocks the viewer off balance. Barry plays with the fractured relationship of agriculture, gender and the natural world. But the monologue also deals with the materiality of words and approaches to writing and speaking to accentuate this physical and embodied understanding of language as form.
Written and directed by Orla Barry; Performed by Einat Tuchman; Design assistance by Tanad Williams & Lutece Mauger; Commissioned by MuZee, Oostend and EVA International; Funded by Arts Council of Ireland and Culture Ireland; Support Kaaitheater & Wexford Arts Centre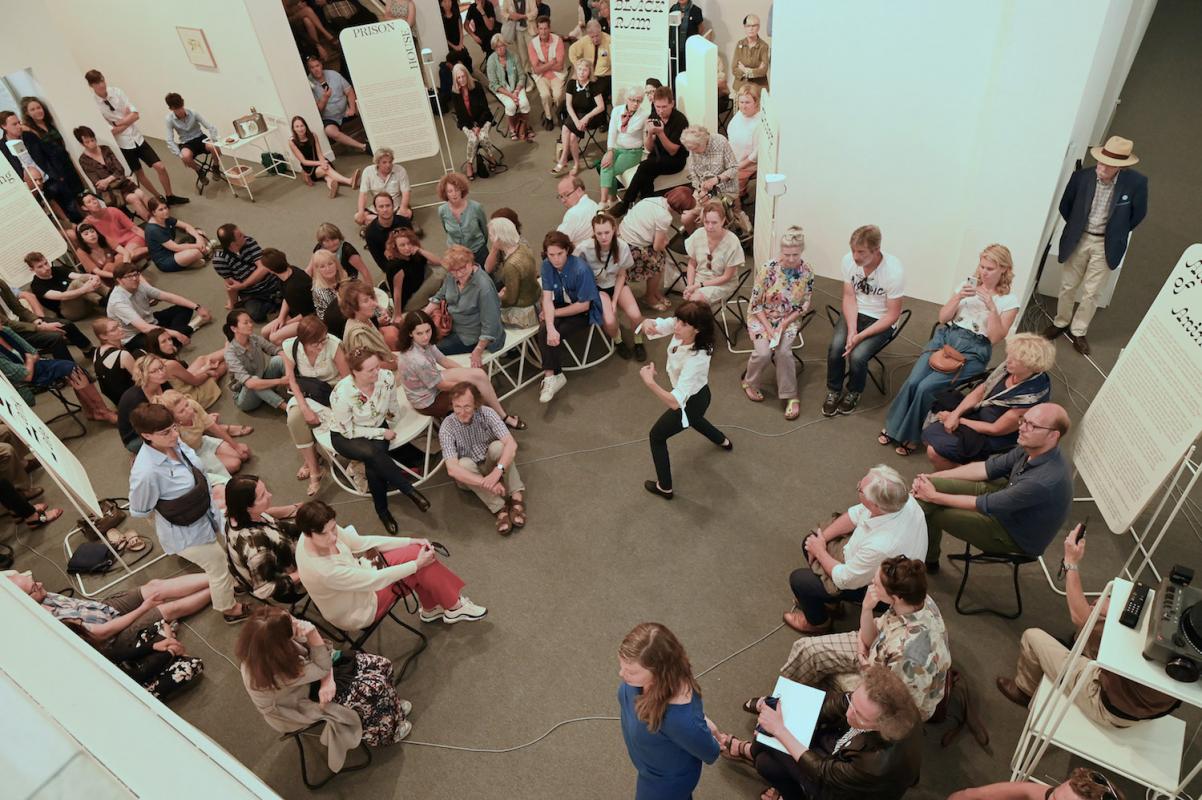 She tips me up & drags me onto a slippery wooden board.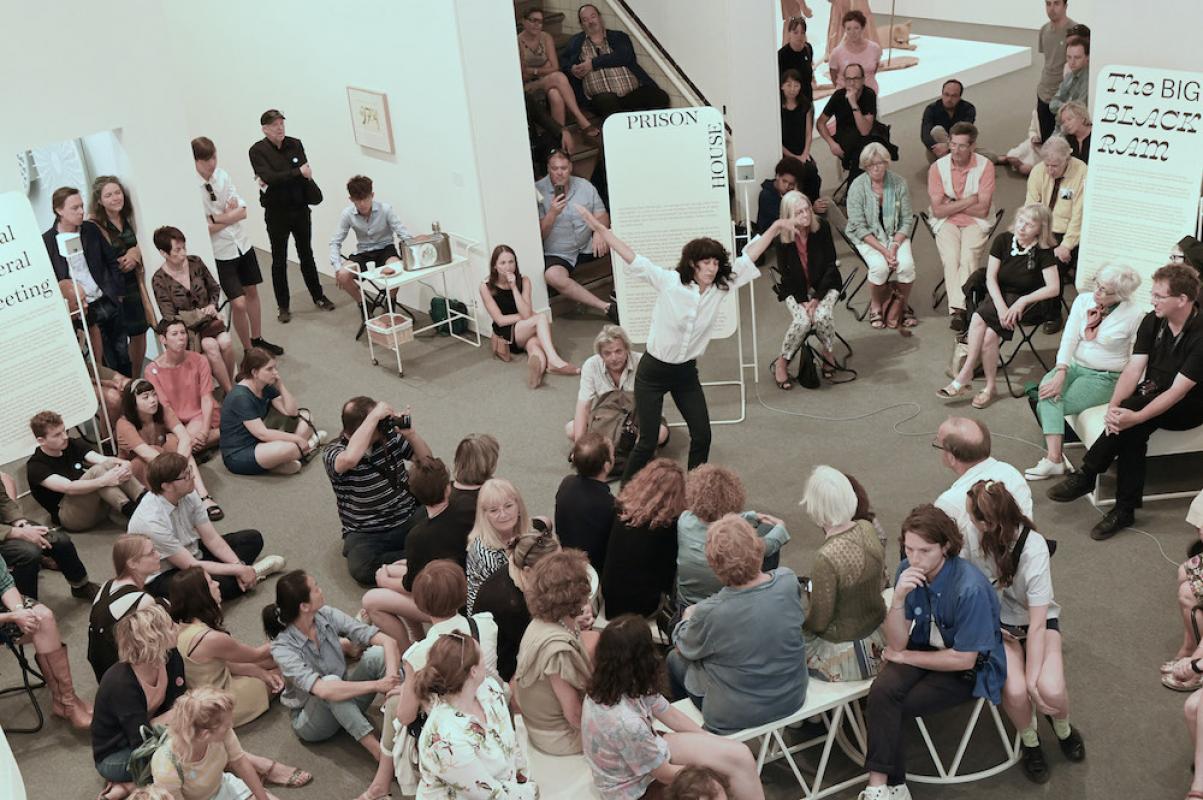 She lets my head come around so she can break open the softness near my skin. That feels good.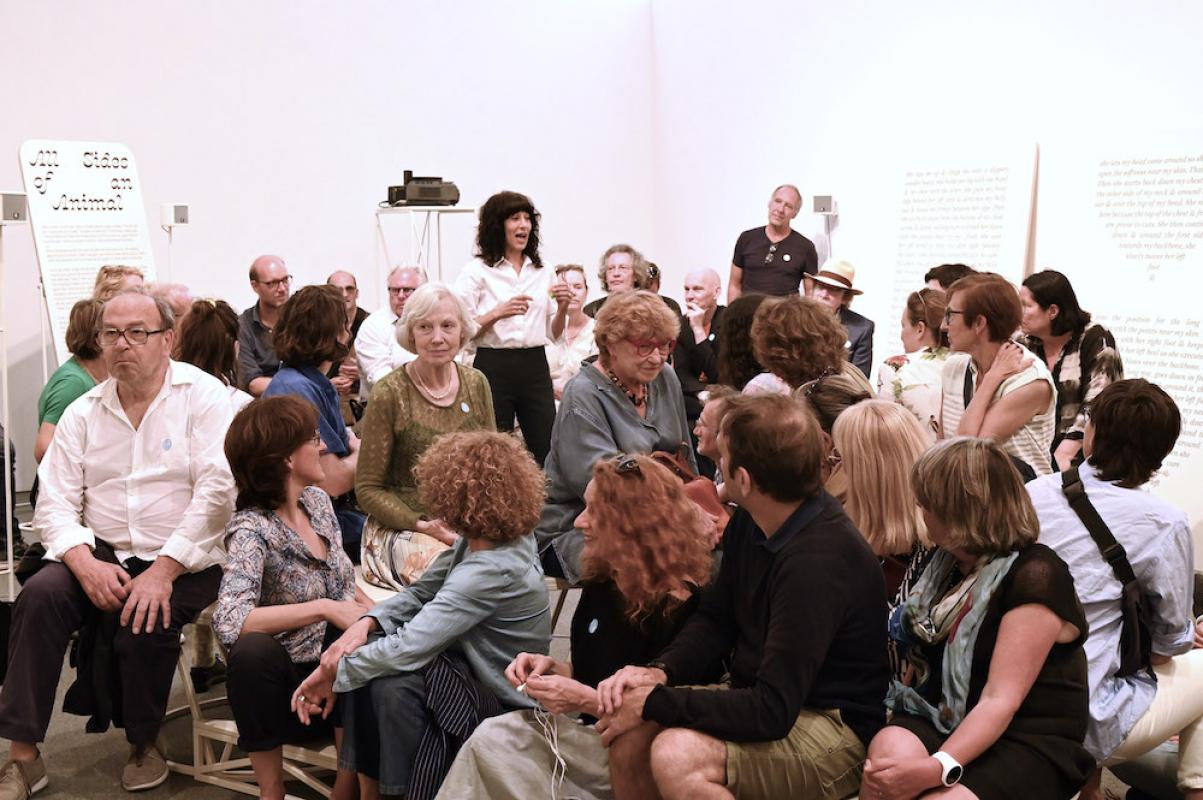 So we have to create creatures to fit packages. My heart goes numb.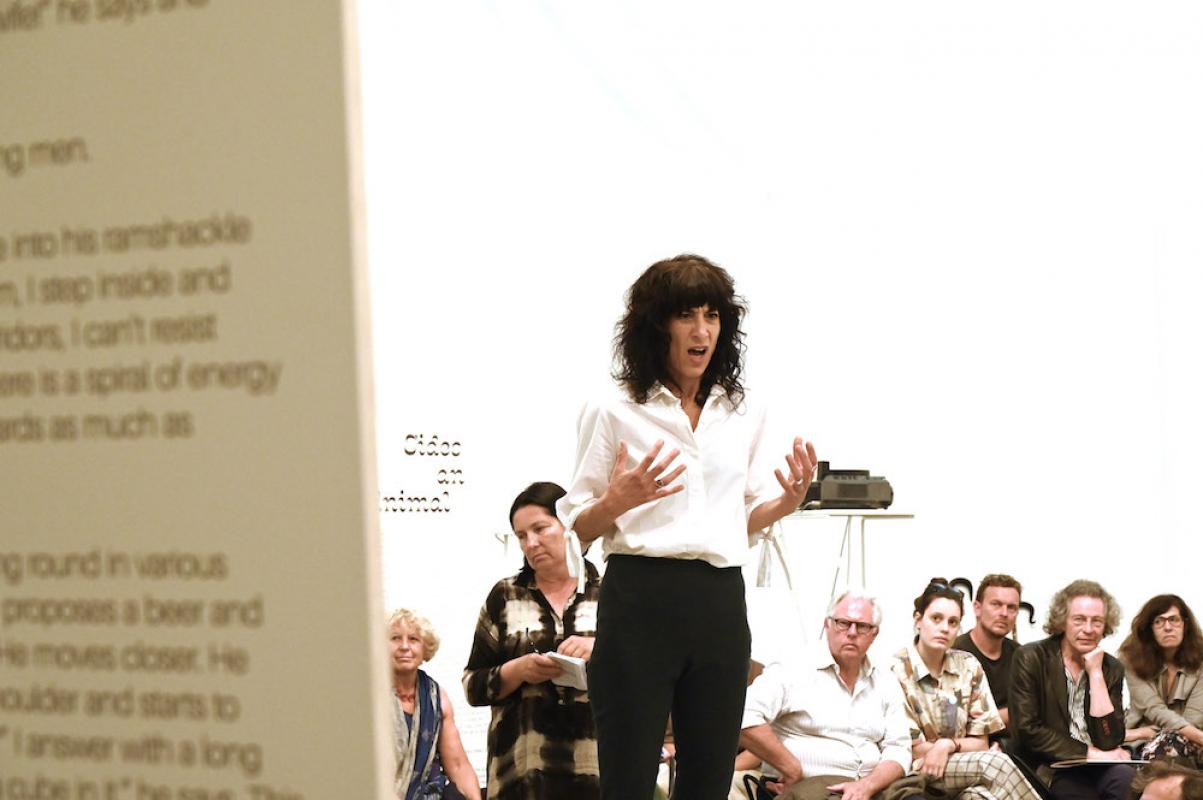 He looks at my hands. They are all covered in blue antibiotic spray combined with sheep shit and it's all stuck deep under my fingernails.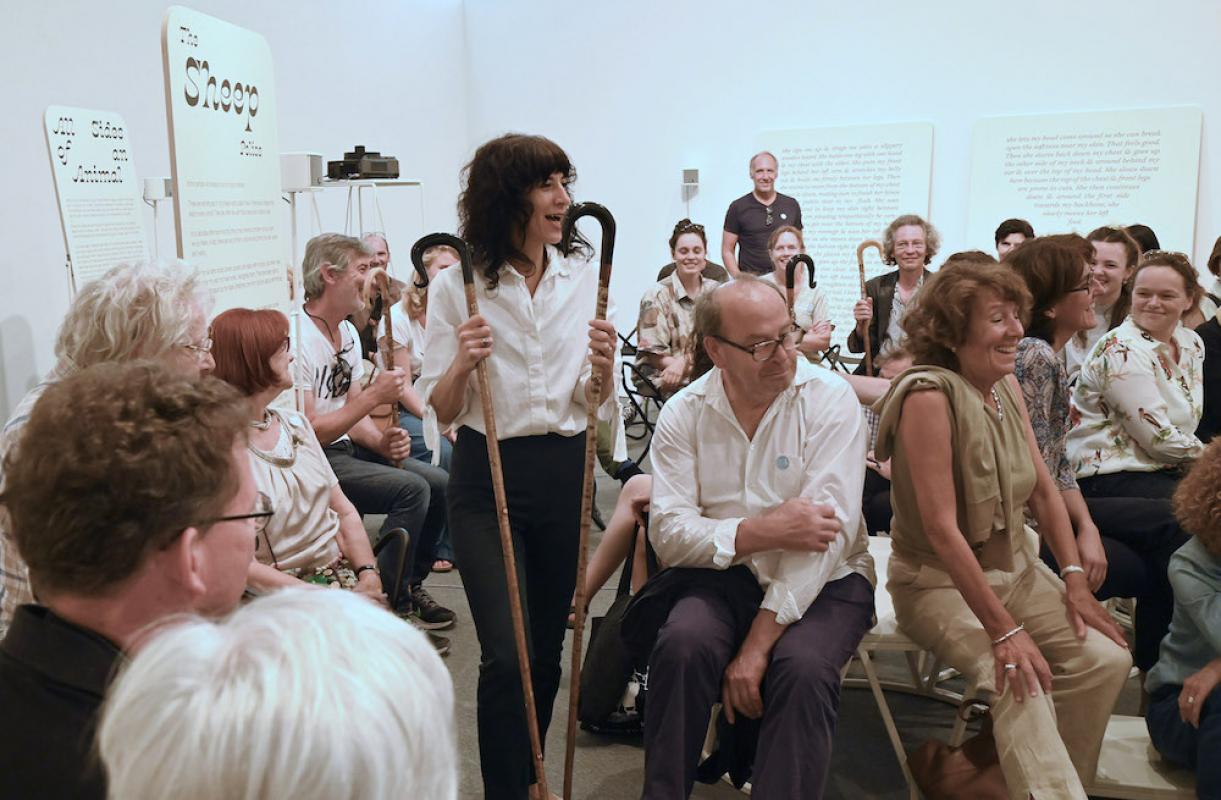 There's the Sophisticated Shepherd and of course there's the Giant Gallant Shepherd, too.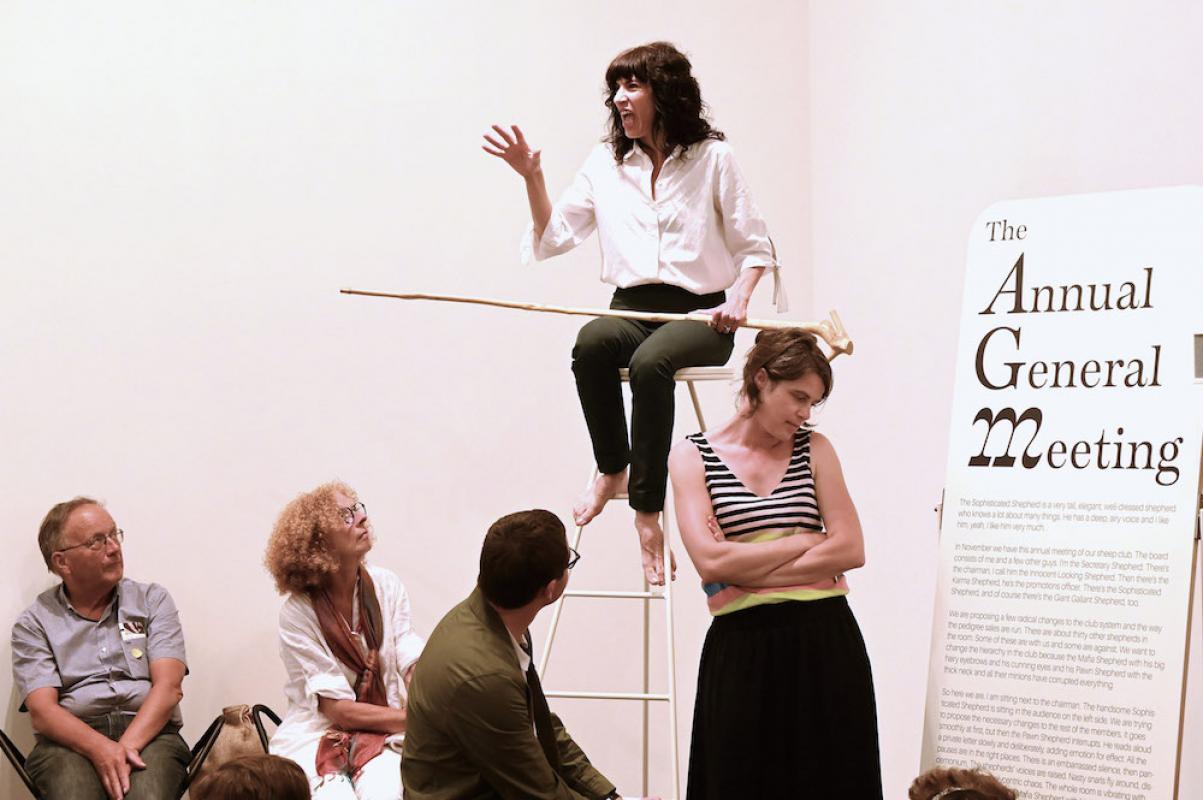 The shepherds' voices are raised. Nasty snarls fly around, dissonance reigns. It's polycentric chaos. The whole room is vibrating with angry shepherd energy.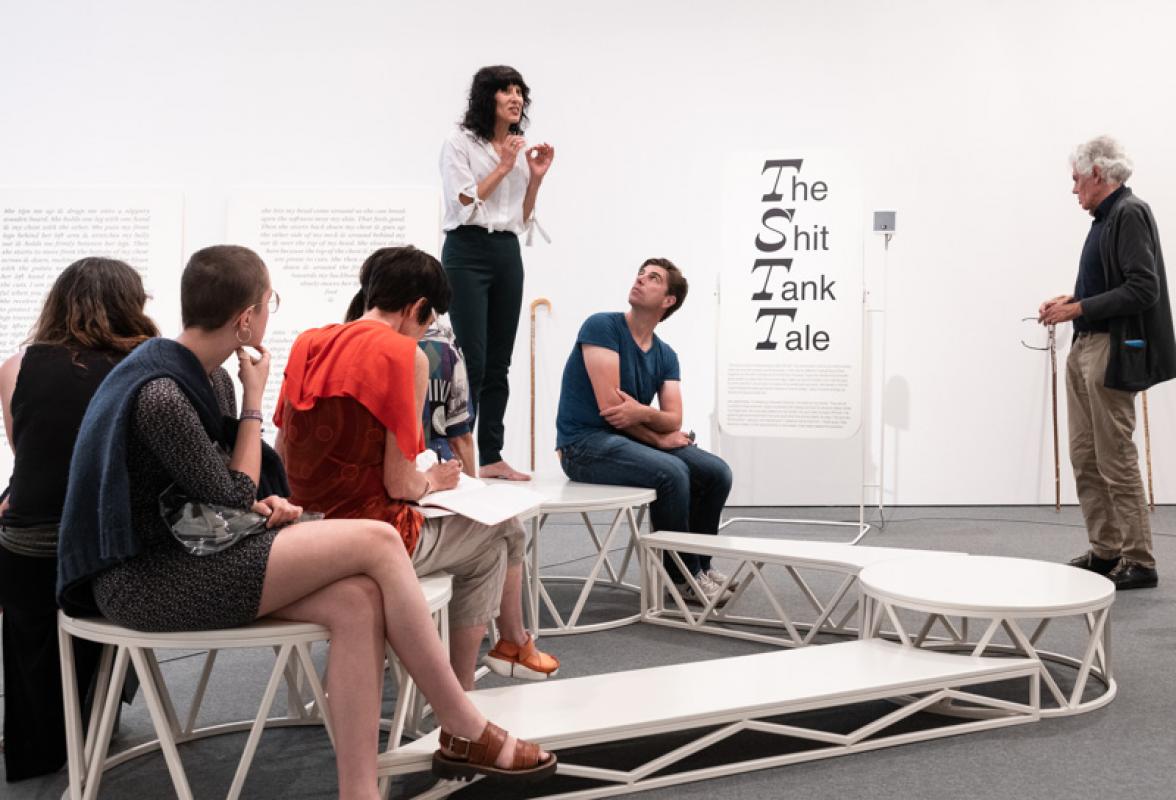 The shit-tank man comes back out of breath ... "Fuck it, I don't have my gun," he says. "Do you have a knife?" I get off my knees and walk in a daze back to the house. I take the sharpest knife we have. I bought it for gutting fish. It's medium-sized, brand new.
Click to enlarge